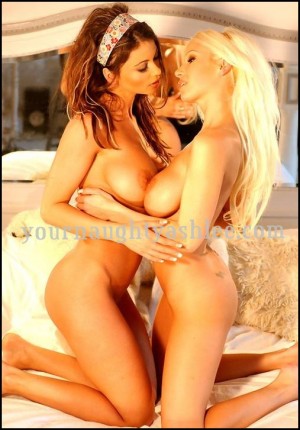 What a wonderful way to sleep… dreaming of my best friend and my most delightful lover.  It was so vivid and so unforgettably decadent. This was more than just a one time threesome,so much more. This was a living arrangement a real and true Menage A Trois.  I would like to share my dream with you and I hope that you enjoy it as much as I enjoy reliving it.
The sun beamed through the windows of our master suite waking us all to another glorious morning of love making. I felt her silky smooth legs wrapped around mine her long blond hair caressed my face tickling my senses her scent driving me wild with desire. Her long slender fingers gently teasing my clit while she pressed her warm,hard nipples against my back. Spooning in the most delicious way in the middle of my two lovers. My nipples becoming hard and aching pressing against his back I slipped my hand down between his legs to gently caress his bulging manhood.  This was an arrangement that we were most comfortable with,our cozy household for three,our erotic love nest.
We spent the morning in our bed spooning,kissing,teasing touching,probing and savoring each others bodies sensually.  The love making we share is unsurpassed a beautiful unity between three lovers unlike no other. The limits well there are none…the opportunity for orgasmic bliss limitless. What an erotic dream of what could very well be my reality if only you were here.  Smile.
Sensual kisses all over your body,
Your Naughty Ashlee